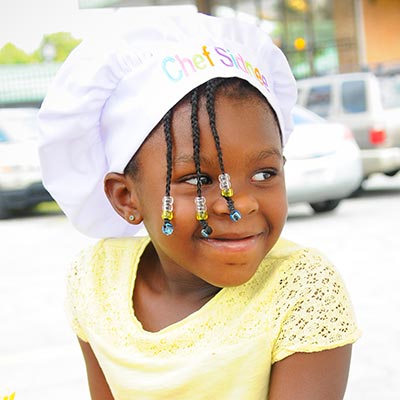 Soon after graduating from Pre-K, then 5-yr old Chef Sidnee mentioned to her mom that she wanted to open up a Lemonade Stand. After consulting with her mom, Sidnee began to write letters of donation requests to her family and friends to help her start up her business.
On July 30th, 2016, Sidnee had her Grand Opening and sold her Homemade Lemonade at her church's annual Bazaar.
Sidnee's lemonade sales did so well, that she partnered with her church to sell her refreshing lemonade on Youth Sunday and donates 10% of her profits to the youth ministry at her church. Since then, Sidnee's business has expanded and she has been invited to sell her lemonade at various festivals and events in and around Metro Atlanta.
Where To Find Sidnee's Homemade Lemonade
You can order Sidnee's Homemade Lemonade in Lemon, Strawberry, Blueberry, Blackberry and Raspberry Infused flavors by the Gallon, Half Gallon and 16oz jug by contacting us at Sidneeslemonade@gmail.com
            Upcoming Events & Locations to purchase Sidnee's Lemonade:
LOCATIONS:
 Spring of 2021-Returning to Savi Provisions Decatur @ 180 West. Ponce de Leon Ave, Decatur, GA
Or you may place your order by emailing contacting us at 404.273.3001 or at: Sidneeslemonade@gmail.com.
UPCOMING EVENTS and FESTIVALS & Initiatives
November 2020- March 2021 –Spreading Warmth to the Homeless– We are currently collecting New and Gently used Coats, Gloves, Scarves and Blankets to distribute to Homeless Children and their families. Please email us @ Sidneeslemonade@gmail.com, to donate any of the above items, or to volunteer to help us distribute the items in Atlanta and surrounding areas.
March 27th, 2021– 2p Est. Macy's Southlake Mall Morrow, GA. for Macy's Fashion Show & Easter Celebration. Join Sidnee at Macy's where Sidnee will be selling 16oz jugs of her Homemade Lemonade. A portion of her sales will go towards Macy's "Bag Hunger" event! See you there!!
Keep checking back for more Festivals, Events and New locations in which you will be able to purchase my Homemade Lemonade and Lemon Custard Ice Cream!
Thank you for your support!  Excited to see you soon! Stay Safe!
Chef Sidnee 
Who We Help
When you purchase Sidnee's Homemade Lemonade, a portion of the profits are allocated to Sidnee's Path2College 529 Plan. A percent of her profits are also used to purchase toys for tots and delivered to a Toys For Tots location for distribution at the end of each year. Thank you!
Photos